First trip in PDRacer 538 & pvc mast
By Mitch Longtin #538 (1ea 2ar)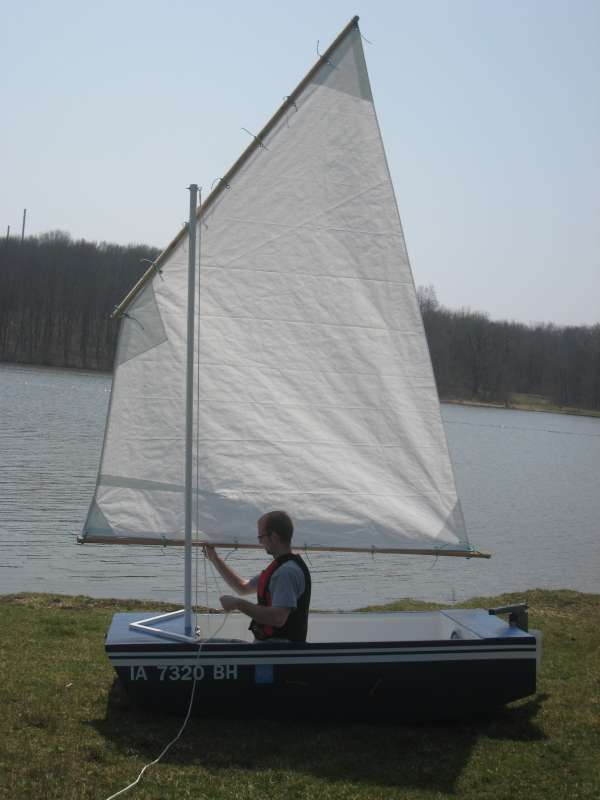 We finished paint and had the boat registered last week, so we had to take it out Saturday! It was a beautiful day with consistent 10 mph winds with a few gusts upward of 20 mph. I've got the boat rigged with a 58 sqf balance lug that I designed, and it handled awesome, never missing a tack, and never making me feel uncomfortable when the winds picked up. You'll see in one of the pictures that the downhaul tension seems to be pulling on the forward 1ft of the sail; in an attempt to keep the downhaul from sliding back on the boom, I ran it through the second grommet on the foot of the sail. I probably won't string my downhaul rope through there again, though, to see if I can get a little better sail shape.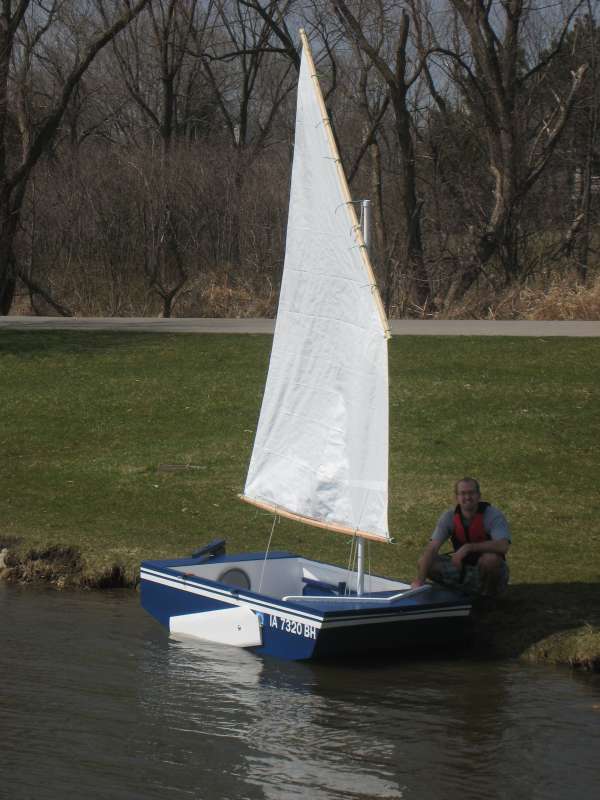 My mast design seems to be a little unique; I see a few people use PVC for their masts, but even though they are using some heavy 2.5" or greater pipe, it appears to still flex quite a bit, and I would be concerned about its rigidity when winds pick up. My building space was confined (the basement parking garage of a downtown condo building), so I didn't have the room to be making a tall mast. I also didn't feel like cutting and shaping my mast out of wood (it's a PDRacer, and I've got to get on the water asap!), so I decided to use a 10' section of 1 1/4" sch40 PVC reinforced with a 10' piece of 1" EMT electrical conduit inside. I filled the conduit with expanding foam for increased rigidity, and I squirted PL into the space between the two pipes as I slid the conduit into the PVC to eliminate the PVC flexing around the conduit. This resulted in a fairly lightweight (7 or 8 lbs, not confirmed yet) and very strong mast that was very easy to make.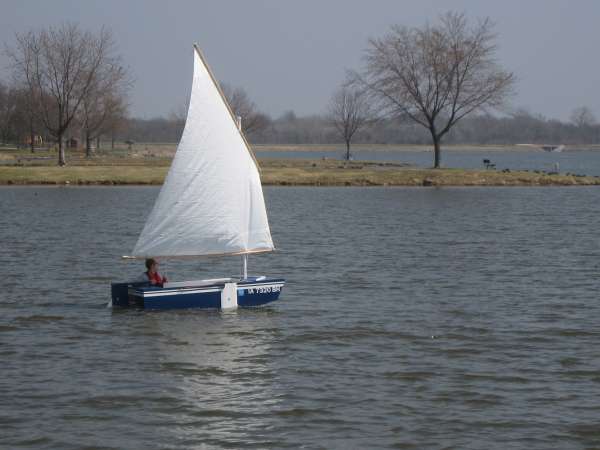 I hope to be taking her out again tonight, as we are starting to see some warm weather up here in IA, and I'm very excited to have this little boat available to use all this summer! I know I've already gotten my money's worth out of it.