Cheney Lake, Central Flyway PDR Miles update
By Steve Crandell

#775 "Ruddy duck" (2es 1eo 1ea 1ad 9ar)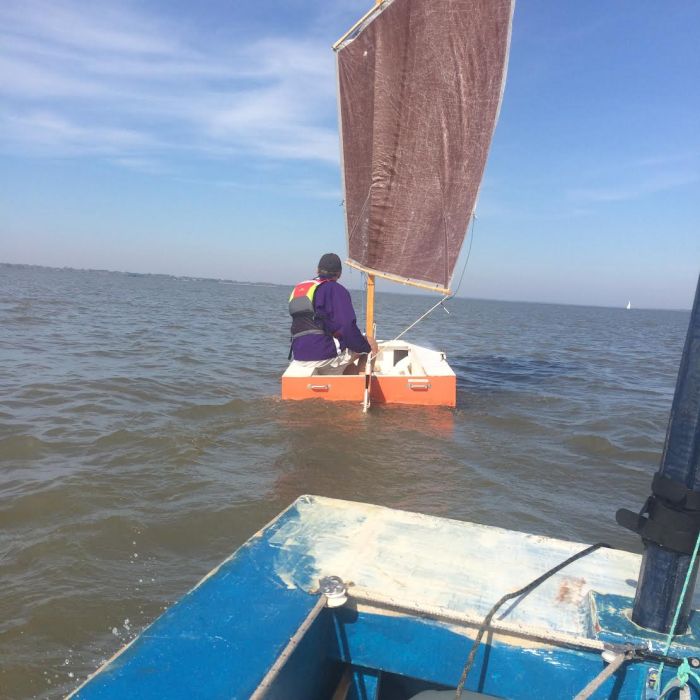 Shorty
I took your advice and Emailed all the duckers in Ks last week with an invite to Cheney lake to sail with me, with most everyone already busy with there schedules set, not everyone could make it,
There was one, David Z. that did. David came out Friday - Sunday and we sailed together across the lake a couple of times, sailing closes enough to chat between the two boats.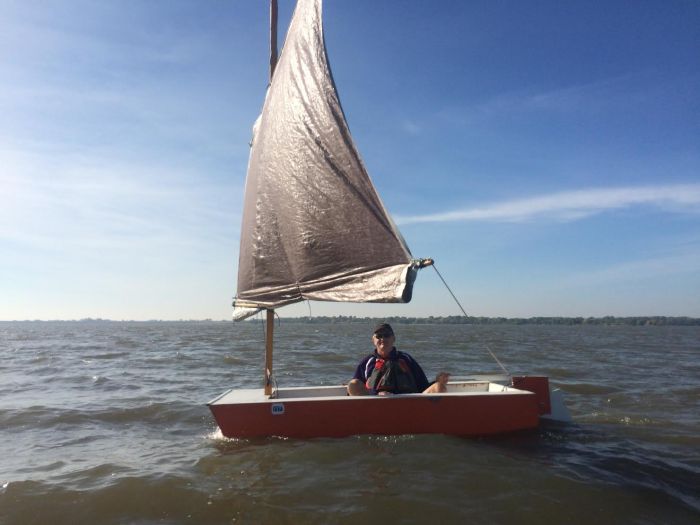 I set up camp Wednesday night just east of the sailboat marina along the shore. This made it easy to just leave the boat set up and ready to go at a moments notices, Thursday came with a beautiful sun rise and with a SSE wind which made it easy sail up to the dam and back, (track 10-08)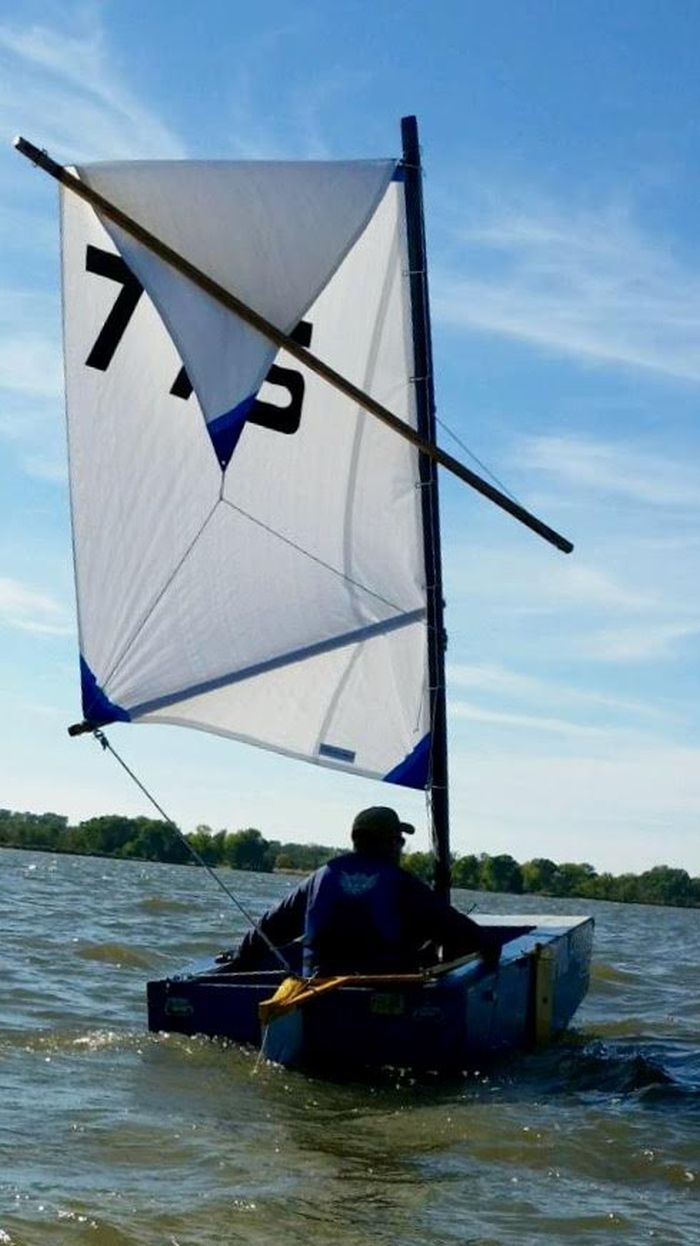 With my 8yr Lab. she loves to go with me sailing, Thursday afternoon I had the opportunity to go sailing with a friend that has a 28' Catalina. Friday morning I set out to head across the lake to the north east, (track 10-9A) the north winds were not favorable at all, with gust of 20 and waves 2' and Holly (the lab) wanting to keep shifting the balance of the boat I decided it was not safe to make the trip and turned around and headed back and sailed more in the area where its protected from the wind. Friday afternoon David showed up with DPR#553 and with north winds of 15+ still. We kept close to the west bank of the lake. (Track 10-9B) Dave's balance Lug sail (reefed some) worked great, I had my Spirit sail reefed also but I found that my starboard tack was slowed down a lot because of how I had the sail set up, so David would get well ahead of me while I'm trying everything to keep up. Sailing with some makes you see a lot about how your boat is set up and how you sail your boat, we both had things planed for the evening, and so we agreed to do it again Saturday morning. Sunrise came and the winds switching back to the SSE 10+ building to 20. we set out to tack our way up wind and than plan on a easy down wind run back to camp. (Track 10-10) of course David made it look easy all the way up wind and me fallowing behind, when it came time to head back I set the sail and off we went, at 5+ mph at times. what only took 2hr to get to the windward mark took 15 min to get back to camp. That was fun, Saturday afternoon I had the RC Micro Magic race to attend, I finished 3 place, next on my plate was to cook hot dogs on the camp fire with the grand kids.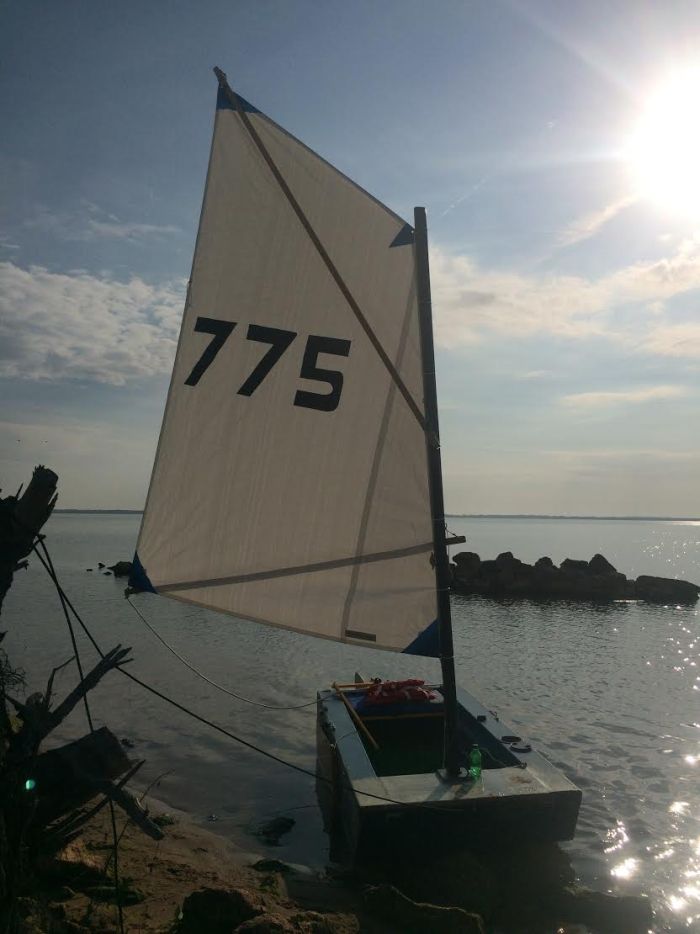 Sunday came with SSW wind 10-15mph winds. David was camping at his daughter house and would meet me at my campsite around 9am and Sunday was the same, the lake was perfect this morning,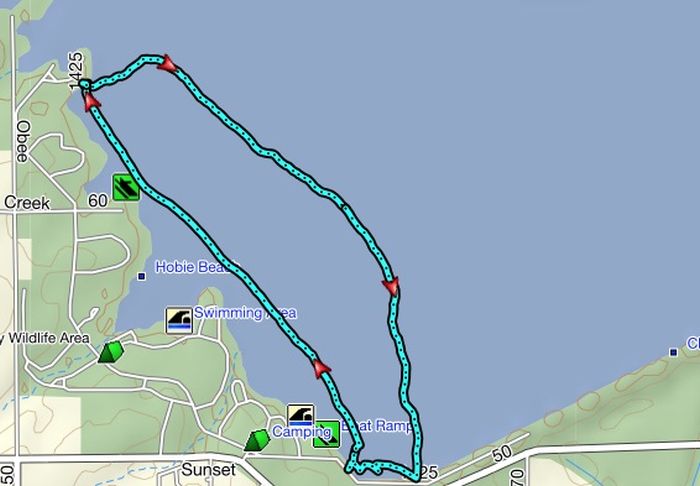 We set out with the plan to be back by noon. With our boats on a close haul reach, we had the lake all to ourselves. It was great; we sailed and chatted, finial we ran out of water. Landing on the sandy beach by the dam, we both expecting more wind to build we had reef our sails,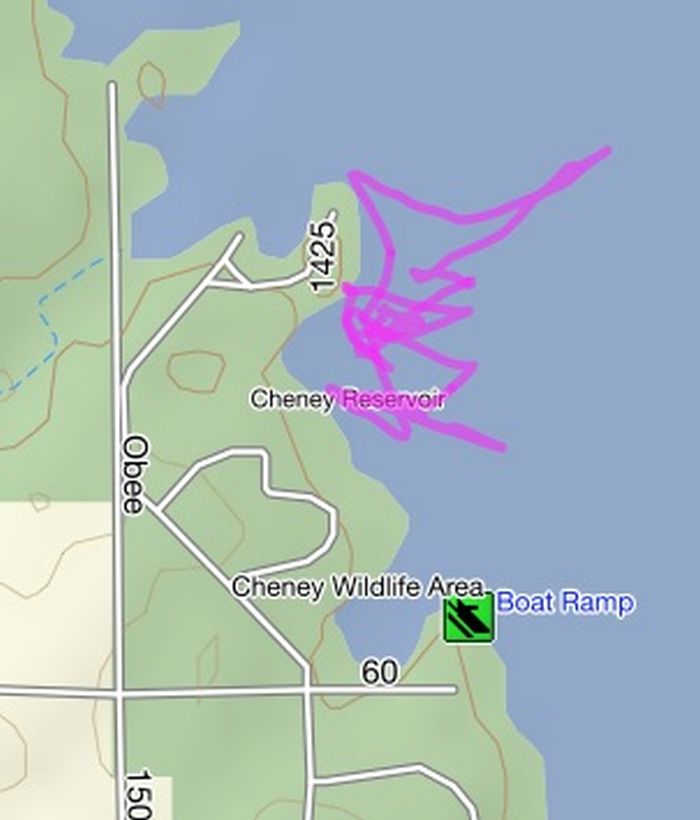 We both took the reefs out and headed back to camp. (Track 10-11). Making it back to shore just a few min past noon.
I would like to Thank David Z. taking the time to come out and go sailing, I'm very grateful that I had the opportunity to make a new friend this weekend, along with learning, handling the boat and setting up the boat in different wind, with a fallow ducker :)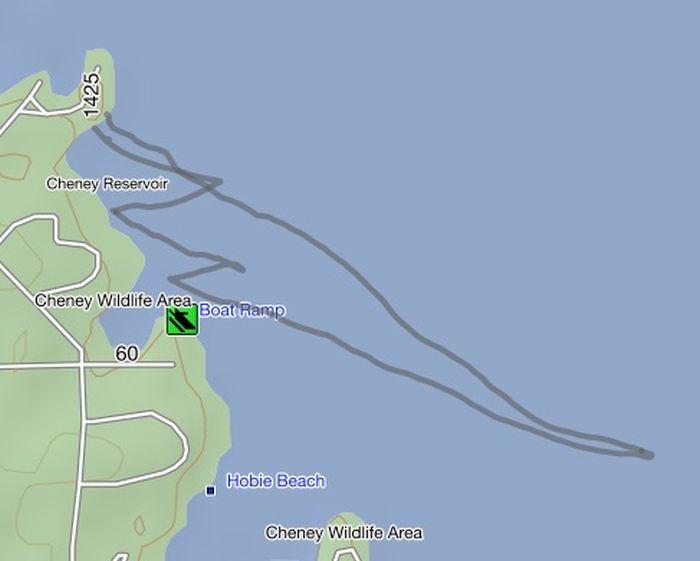 Miles update

Thursday –(track 10-8) 4.9 miles pdr#775

Friday – (track 10-9a) 3.1 miles pdr#775

Friday – (track 10-9b) 3.4 miles pdr#553 &775

Saturday – (track 10-10) 5.6 miles pdr#553 & 775

Sunday – (track 10-11) 6.5 miles pdr#553 & 775

Total of 23.5 for PDR-775, Steve C.

*Total of 15.5 for PDR553, David Z.