HIN Plate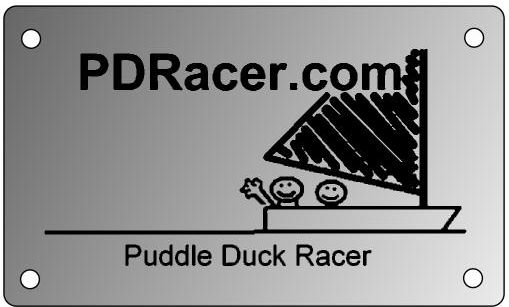 Other sailboat clubs have required plans that you must pay for (whether you build a boat or not), charge annual membership fees, local chapter fees, race event fees etc.

I have always offered everything for FREE and done my best to provide you with all the tools you need to connect with other duckers to get out and do our motto:
free plans
free building instructions
free hull registration
free lifetime membership
I have organized many PD events anyone can enter for free
I purchase advertising to help our class grow
I continually promote the class to help it grow
I continually add new content to the website to help duckers
I continually maintain & update the central membership list so you can directly contact any other ducker on the planet
Provide personalized profile page for every ducker listing their articles, that way when other duckers browse the member list, they see what you are doing and contact you to get involved
If you like the club, how about purchasing a HIN Plate.
This is the way I raise funds to support the class and pay for the operating & maintenance costs ever since starting back in 2003. It used to be cheap back when I first started but after the club grew, I had to upgrade to a bigger server to handle the traffic load and to bring in new members, I purchase advertising. The cost of operating the club grew beyond what I can personally afford to keep paying every month so the donations are literally what keeps the lights on and makes it possible for the class to continue.
There are hundreds of other boat designs out there (many are just stagnant websites selling plans). To build our community and prevent our class from fading into the background with everyone else and dying a slow death, it takes constant effort to maintain, promote and advertise, which costs money. With your help, we can keep this party going.
You can order these at any time, even before starting your duck,
and you are welcome to use these on other boats if you want.

| | |
| --- | --- |
| Order Your HIN Plate: | Just Make A Donation: |

If you prefer not to use the above shopping cart buttons, you are welcome to paypal me directly at: Shorty@Shortypen.com or
email me
and let me know if you want to do something else. -- Thanks.
HIN plate
Level 1
Contributor
HIN plate + Donation
Level 2
Supporter
Level 3
Champion Supporter
Level 4
Benefactor
Level 5
Platinum Benefactor
Level 6
Diamond Benefactor
Benefactor Icon
I immensely appreciate the financial support. As a way to thank duckers who make donations or purchase HIN plates, the member list displays an icon next to ducker's names.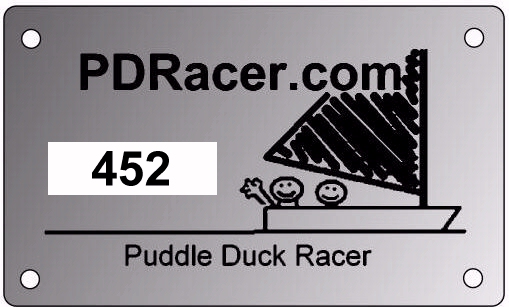 HIN Plate Arrives Blank
Your HIN plate will arrive as shown below. Often duckers then have them engraved or put a custom label on the plate to display their hull number. Your hull number is sort of like a football jersey number, and the HIN plate has a special place to display it. If you decide to build a replacement hull, just move this plate to your new hull to transfer your number to it. For more info on keeping your hull number, see the hull registration page.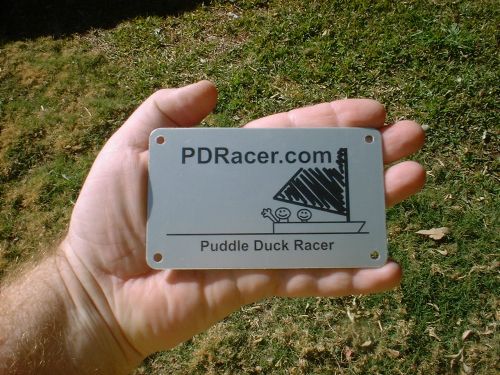 HIN Plate Pictures
Here are some pictures of the HIN Plate. It is 5" wide and 3" tall. I kicked around a bunch of different ideas for the graphics and what should be printed on the plate. I have seen many name plates for sailboats, and most of them are very professional looking with boxes and small type, and snazzy looking graphics. Figured since we build our own boats, we should have an ID plate that represented us better, and I went with the simple design shown.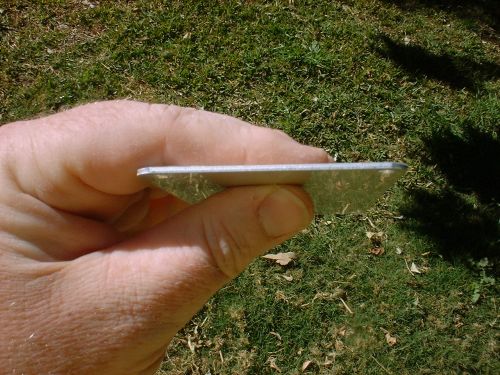 When looking for a manufacturer to make these, I talked to a lot of different companies that offered different types of name plates. Some were etched, some were stainless, some were other materials.
I settled on a company that makes nameplates for the US Military, these are the thickest aluminum they had available and have a special image process that is military certified to be able to withstand direct exposure to the sun for 20 years.
Although they were very expensive to have made, figured that most of our boats might not last that long if left in the weather, so this would be something permanent that we can keep which represents our boat, and can be used deep into the future on replacement hulls.
More info about the process from the manufacturer:
We made these parts using a metal photo process and then sealed the parts in a sealing tank so the image that is currently on the parts will last almost forever. Now that the parts are sealed, if puddle duckers want to have them screen printed, I would suggest having them printed with a solvent based ink system, or baking enamel ink, but many inks should work. The baking process will not erode away the sealant. The sealing tank is just sealing salt that seals the part. We have printed on top of sealed parts and have no problem.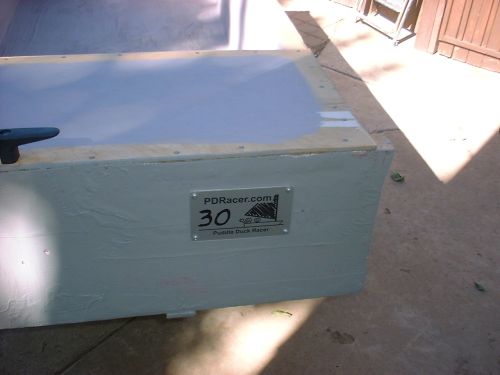 For now, I just used a sharpie marker to write my number on my plate. I have been kicking around different ideas on what I want to do with mine. Below are ideas I have heard from other duckers. I have not tried any, but if you do something interesting with your plate, send me an article so I can share it with others.
Professional Engraving - Jewelry stores and trophy shops have engraving services, and those types of stores are very common.
Label From Trophy Shop - The trophy shops often engrave small name plates and attach them to the front of trophies. You could get one and attach it to your HIN plate. Possibly marine goop or pop rivets to hold it on.
Dimple With A Nail - First draw letters and / or graphic on the plate with a pencil. Then use a center punch (or nail) to make a ton of dimples in the designated areas. After the dimples are in place, fill the dimples with paint. Probably wiping off the surface often while applying the paint, so the paint just fills the dimples.
Number And Letter Punch Set - I bought a number and letter stamping set, they are basically sticks of steel with a number on the end, and you strike it with a hammer. The letter at the end of the steel stick will then make an impression in the metal. I tried these punches on some scrap material, but couldn't figure how to do it neatly or in a straight line. The letters ended up being of different depth, and they were all crooked. So I gave up on that idea, but there could be a good technique to using them and I just don't know about it.