The Royal Duchess - #792 – From 3D-cad to reality
By toliver66 #792 "The Royal Dutches" (5ar)
I just thought I would post a more detailed update and a little background on how I went from 3D-cad Design to a real sailboat.
I was sitting on the beach one day watching my 7 year old son play in the water when this fella sails by, quietly, smoothly, and majestically on a Hobie Cat. Wow… it would be awesome to go sailing I thought to myself. And so I was bitten by the sailing bug.
When we got home that evening I began to investigate Hobie cats on the internet. Seeing that I would never be able to work a Hobie Cat , new or used, into my budget I began to explore other means of getting a sailboat. One link led to another and so on and so forth and hours later I find myself on PDracer.com looking at the ugliest little sail boat I've ever seen. Sorry guys and gals, just being honest, that was my initial impression of the puddle duck. So I moved on… found free plans for a Bannock … found free plans for a MiniCup … found plans for a Weekender at a very reasonable price and other designs at not so reasonable a price. So I began to make plans and preparations to build a MiniCup, But the ugly duckling just kept raring its head. A picture here, a video there, a build log over there and soon it's not so ugly any more and it starts to grow on me. And Then I came across Joel Rodgers hull #703 "Raptor" And his adapted California Pelican sail rig. It then dawned on me that I could build the puddle duck hull with the bannock sail rig and since the bannock is 8' long with a 4' beam same as the puddle duck I could use the sail rig directly from the bannock plans. So I fire up the 3D-cad and begin designing hull #792 the Royal Duchess.

What follows is a few pics of my finished puddle duck and its 3D-cad counter part.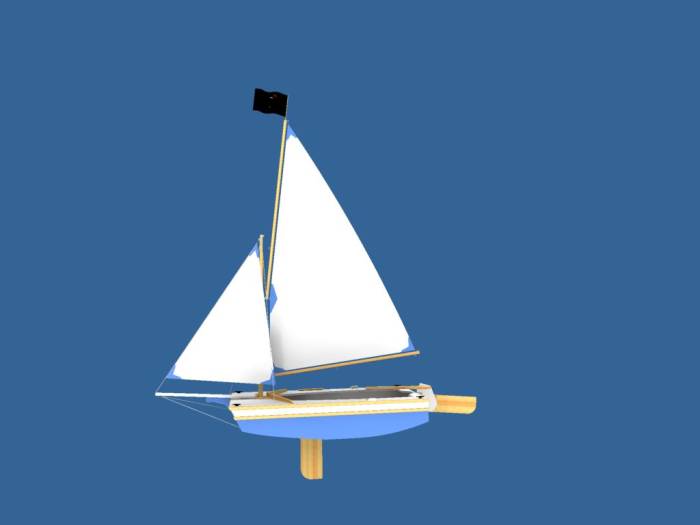 A side shot of the 3D-cad model.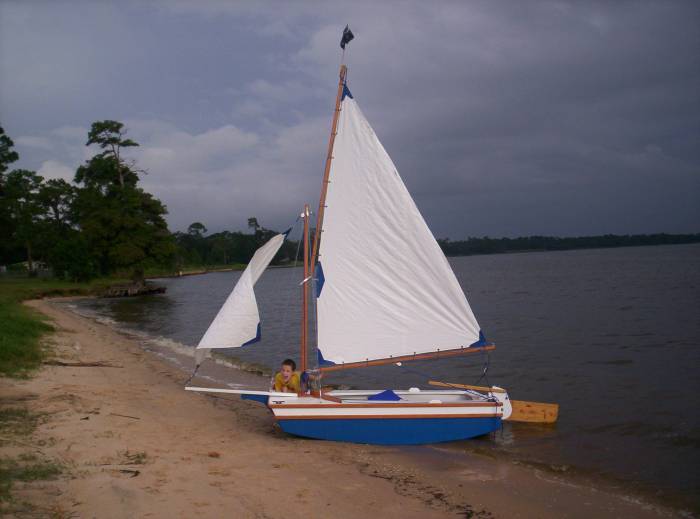 And here is a side shot of the Royal Duchess with my son posing in the picture. (now 8 ½ years old by the way)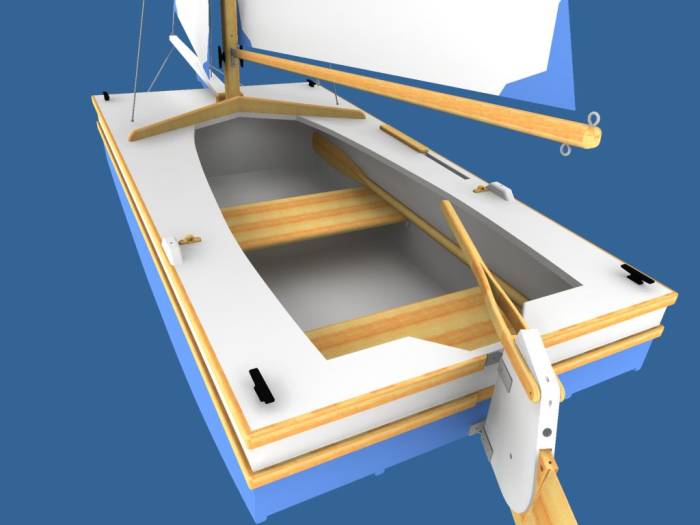 From the stern in 3D-cad.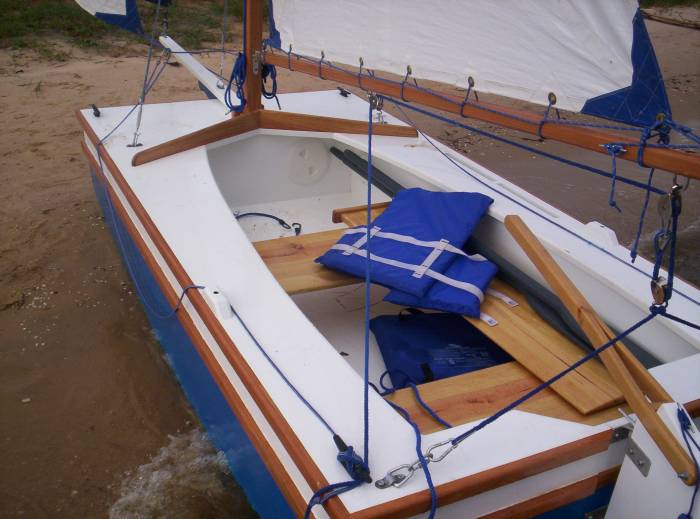 From The stern.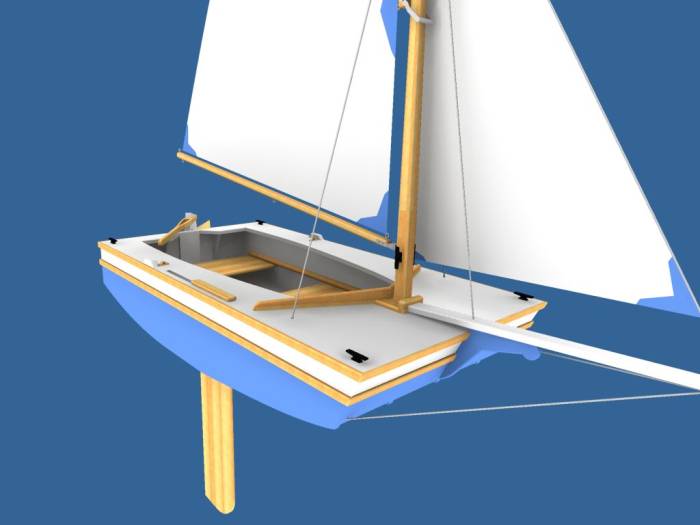 From the bow in 3D-cad.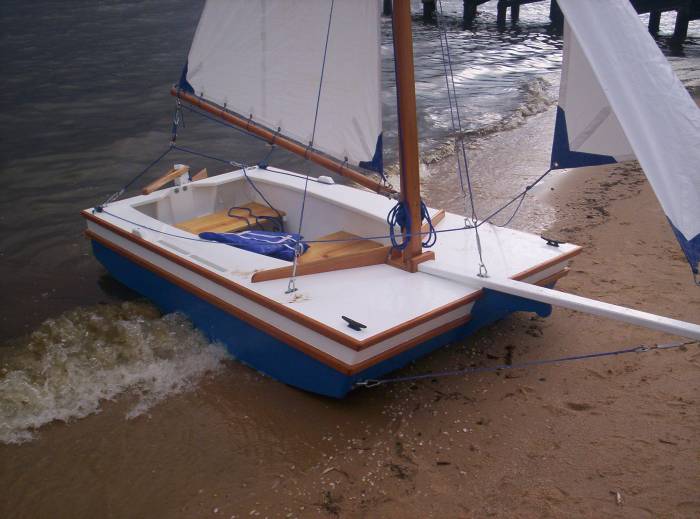 From The bow in reality.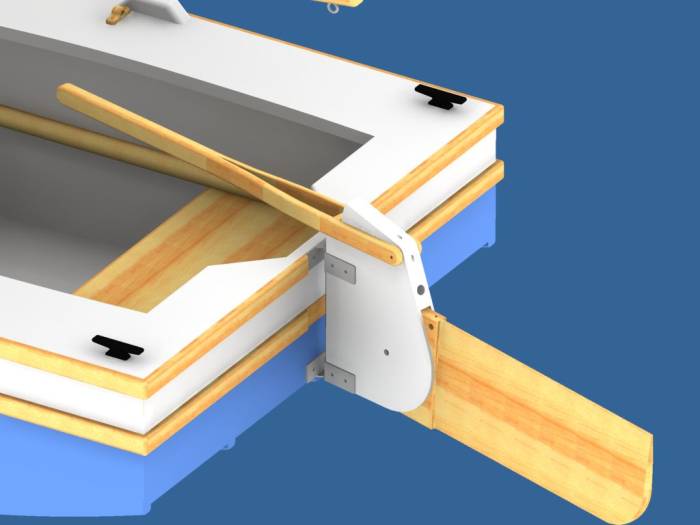 3D rudder Shot…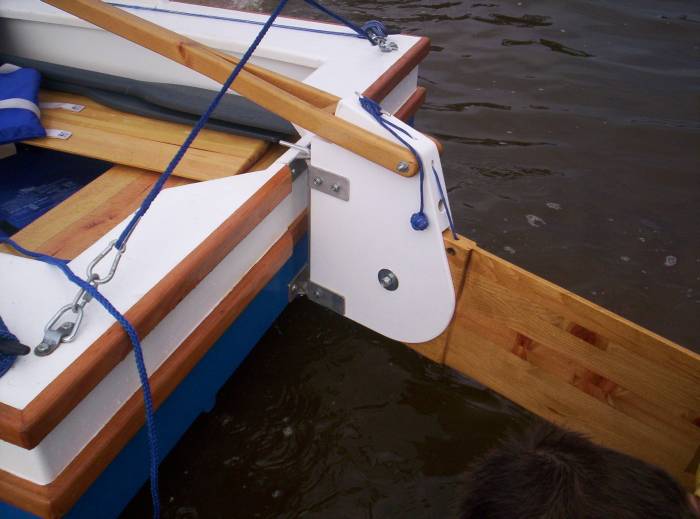 And A shot of the finished rudder.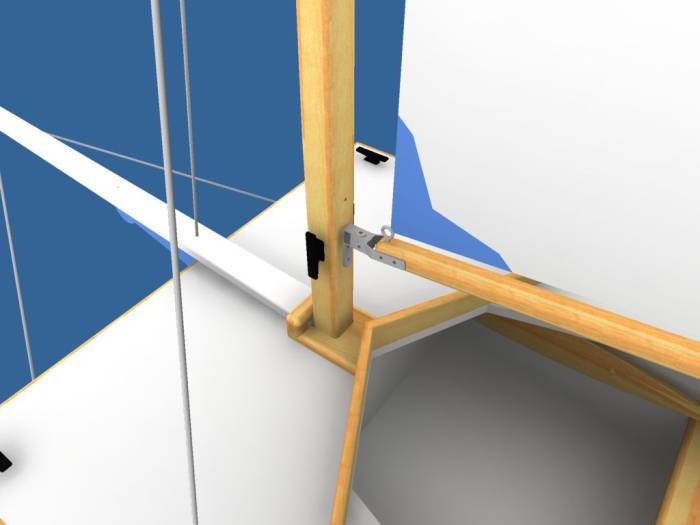 Goose neck and mast step detail in 3D-cad….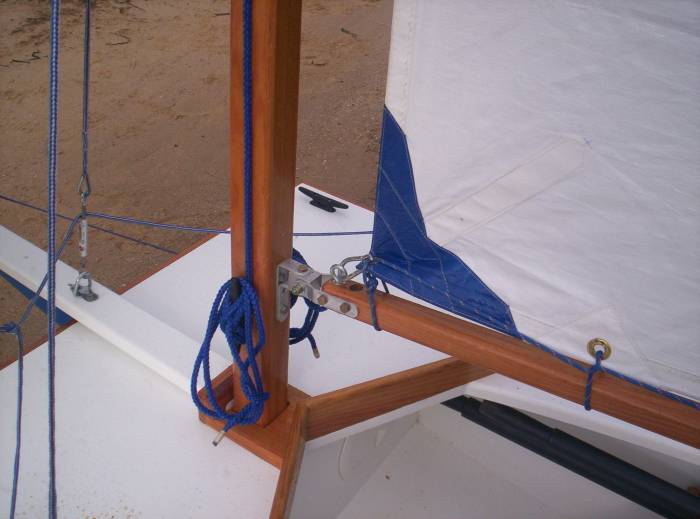 And the finished goose neck and mast step.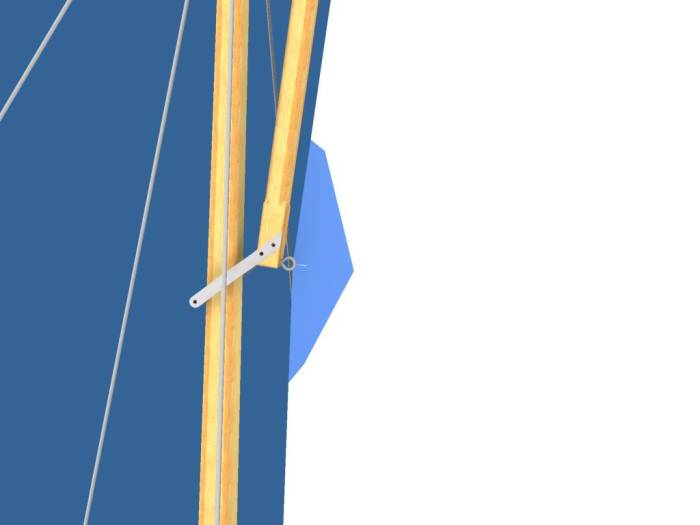 Gaff fork.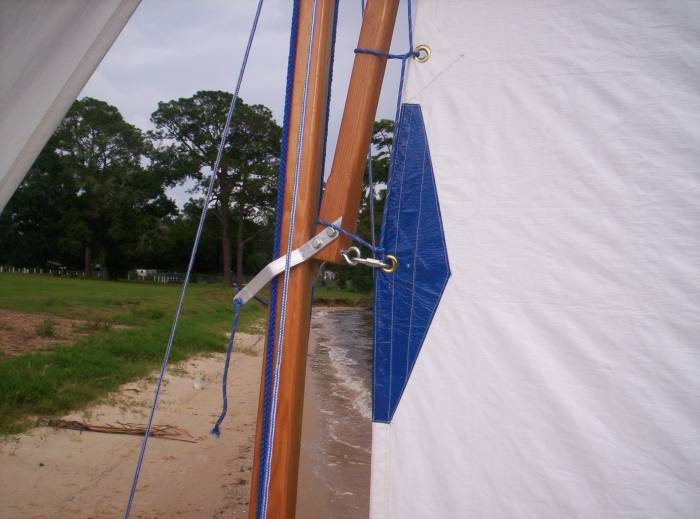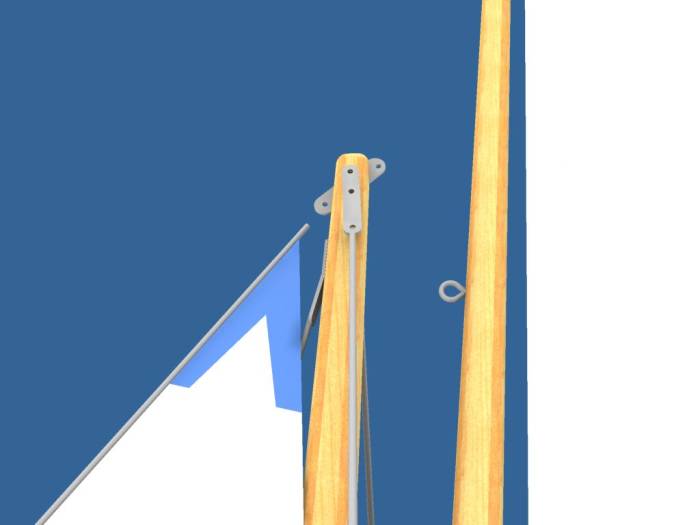 Mast head.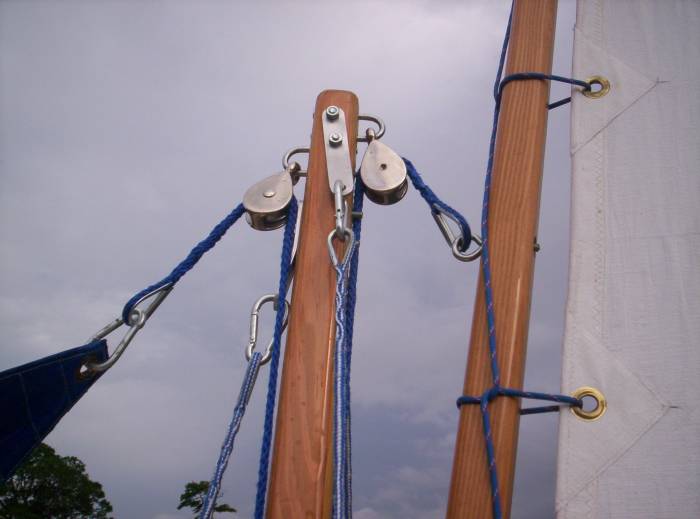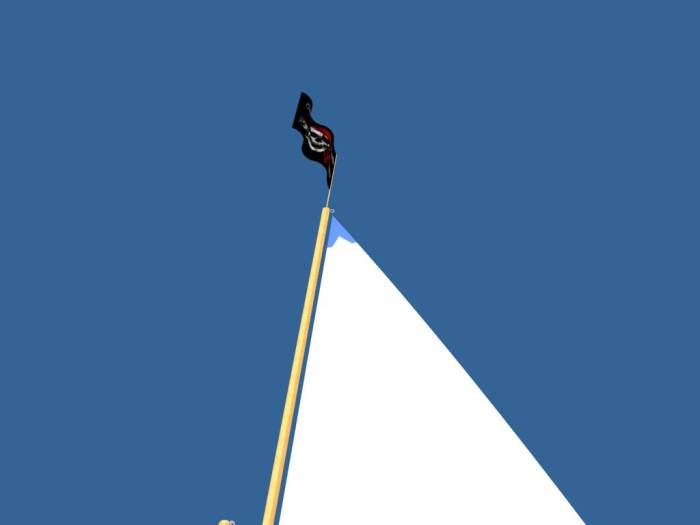 Gaff and jolly Rodger flapping in the breeze.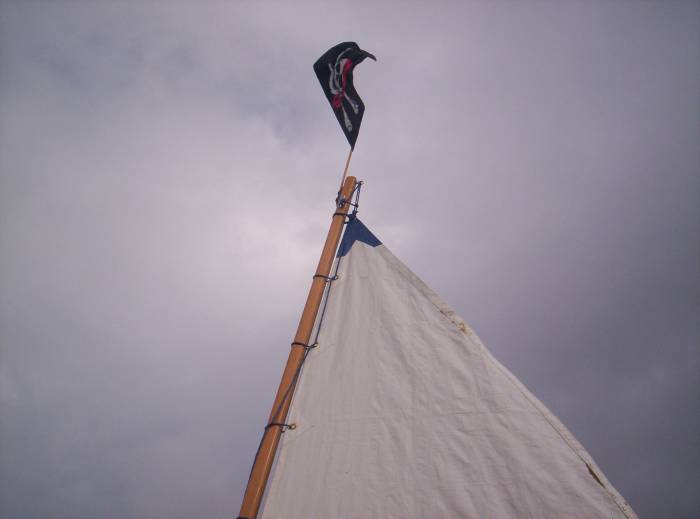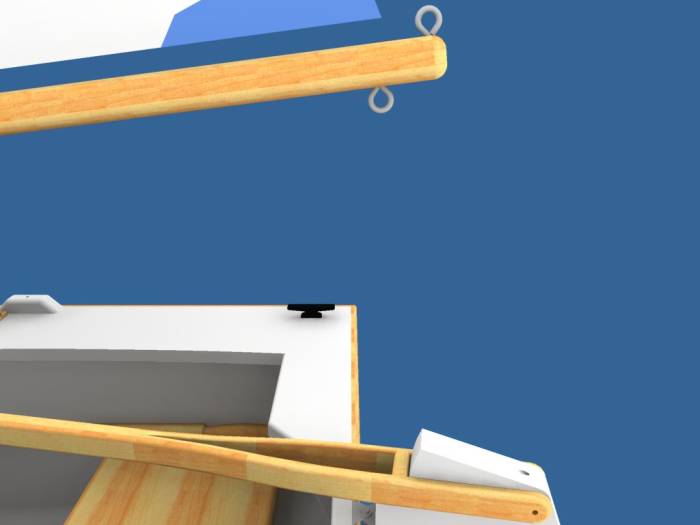 Main sheet in 3D-cad? I never did get around to drawing that part…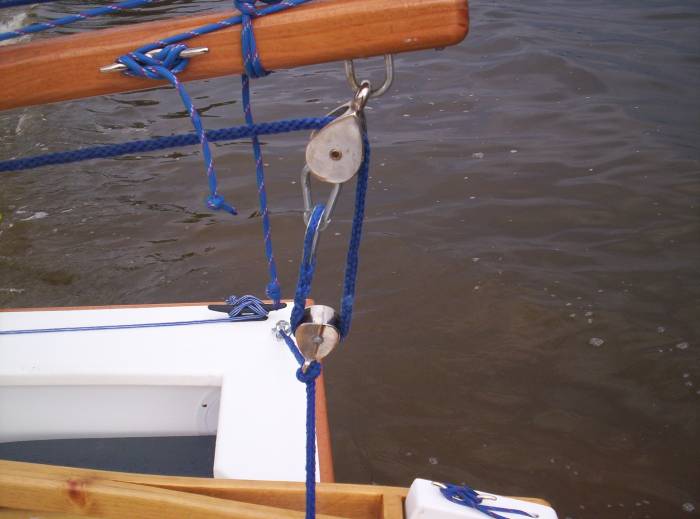 But here is the one that counts. I was originally going to use double blocks for a 4:1 ratio but that was over kill so I cut it back to 2:1. Just right ;)
She sails wonderfully. I've put at least 30 nautical miles on her by now and I've had her up to 4.5 knots. Every thing has worked perfectly and nothing has broken so far. Since these pictures were taken I have added cam cleats from race-lite for the jib sheets and wool yarn tell tails on the jib and main sail. What would I change about her if I could? Nothing, I like her just the way she is. What would I do differently? I would add a 2" seam allowance all the way around the sails and add a dart at the tack. But I can always make another set of sails if I can stop sailing her long enough to do so.
In closing I would just like to say thank you Shorty for sharing your design with the rest of us. I would also like to thank all the other builders who took the time to post articles and build logs about their puddle ducks that inspired me to build one of my own.
I will leave you with quote from my son while sailing one day;
"Whoo Hooo!!! This is fun dad, sailing is fun. YEEE HAWW!!! Hey dad, do you think that when I get big and have a son I can build a sailboat and take my son sailing?" Dad - "Of course you can! You can do anything you set your mind to son." Son - "Oh… Hey wait… hey dad, when you die… or you get to old to do any thing any more… Can I have your sailboat for old time memory sake?"