Boat Building Tools
Whenever boat builders get together, what tools you use is a huge area of discussion. There are hundreds and hundreds of different types of tools you could use to build a PDRacer, however which ones YOU use really comes down to personal choice. Below are a couple of suggestions that I have. If you are new to building stuff, I'd suggest contacting another local puddle ducker (see our member list) and ask their advice about what tools they used (and which ones they wish they had used).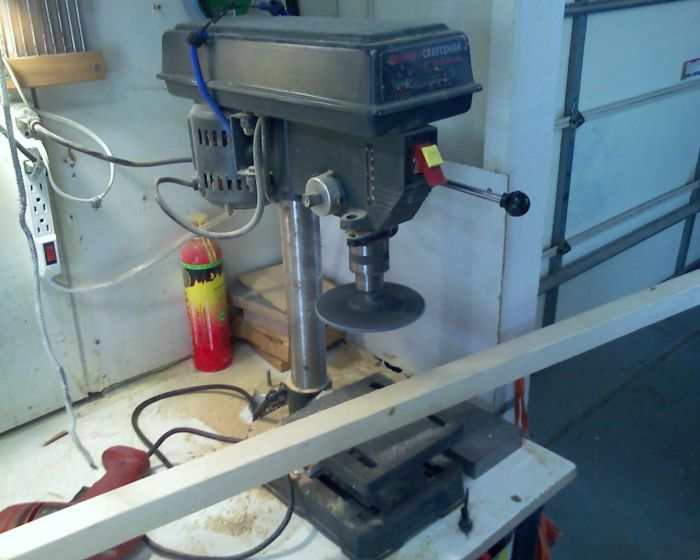 Sanding with a drill press
I discovered a neat way to sand parts. I put a sanding disk in my drill press, and then I can run material across it. Because the disk is in the drill press, I have both hands free to run the piece across the disk.
The sandpaper I use comes as disks with an adhesive back. The glue on the sandpaper disk isn't that strong, it is just strong enough to stick to the disk. When one piece of sand paper is worn out, it is easy to peel it off and stick on another.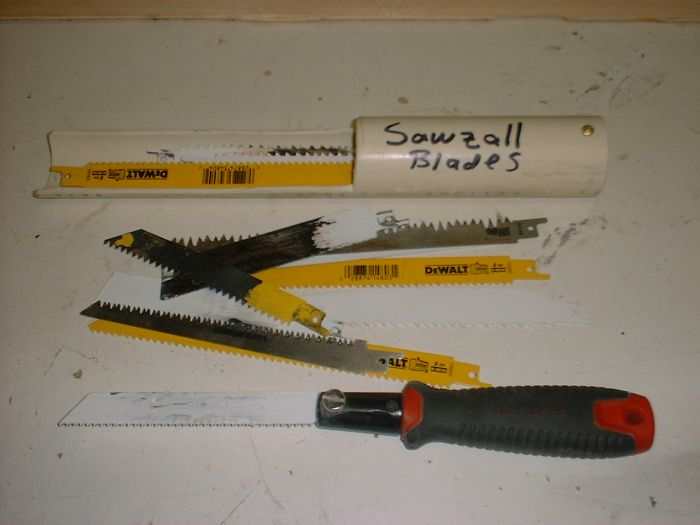 Hand Saw
For all of human's great creations, at some point they must be torn down and the Sawzall to do that. While a sawzall is a bit too powerful for boat building there certainly are a lot of blades available for them. Some have big teeth, some small, the blade lengths vary etc. My mother in law gave me this handle which can accept any sawzall blade and I have to admit, for a hand saw it the one I use most often. I can pick just the right sawzall blade for whatever I am cutting.
To keep all the blades together, I have a tube of PVC pipe that I toss them into. That pipe hangs on the wall behind my workbench, so when I need a different blade, I just shake the blades out to find the one I need.
How to rip boards with table saw
The table saw is one of the most dangerous tools in your shop, and I have known a number of very experienced boat builders that have accidentally run their thumb into the saw blade. That saw terrifies me, so the way I rip boards is I feed a board in half way, then lift it off the saw and flip it over. Then I feed it in from the other end. That way my hands stay atleast 24" away from the blade at all times.