Building BucketEars - The Simple 18 PDRacer Sailboat
By David "Shorty" Routh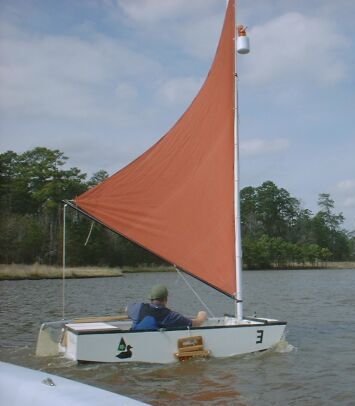 The picture to the right, is "BucketEars" crossing the start line of the first puddle duck race.


Prepare To Build
Plans for the Simple 18
The rocker shape is shown on the class rules page
How to make hull shorter than 18"
First cut fever
Stuff To Get
For things that you might need to get for building your duck, see the section on site map page called
"
stuff to get
".
Build The Hull
marking and cutting the sides
attaching chine logs and framing logs
making bulkheads
hull goes 3D
Waterproof The Hull
fill the cracks
fiberglass outside edges
I am an experienced boat builder, and at this point it has taken me 10.5 hours of labor. New boat builders will take a little longer that that. Experienced builders at a
hatch type event
using templates and some pre-planning can produce 3D hulls much quicker.
Customize Your Options
At this point, you should look over the website and decide what kind of parts you want to put on your boat. Here are my personal favorites:
oars
Simple 2x4 mast - tapered
Michalak Rudder
Michalak Leeboard
Bolger 59 Leg-o-mutton sail
Finish Up
Finish hull and go sailing
Completely Reconfigure Hull