PDRacer World Championship Race
We have one annual World Championship Race and entry to the race is free for any ducker with a registered class legal PDRacer and their crew. The race location is on a system to spread the locations and allow local event organizers compete for and win the rights to host the following year's race. Any puddle ducker can capture the rights to host the next world championship.
Bid Event for World Championship
World Championship Race Guidelines
Bids That Have Been Submitted

Hatches, Gatherings, Cruises, Regional Championships Etc.
We do not have any protected territories, so any ducker may organize and host hatches, gatherings, cruises, events or championship races that they have created. Send me the info and I'll get it posted to the website: submit article. Also consider contacting other duckers directly & posting the event information to various boat forums: Contacting Duckers Hosting a regional championship event is great as a bid event.
2015 World Championship - Pennsylvania, USA
John Bridges won the rights to host the 2015 championship race with his fleet in Pennsylvania, USA. The championship will be held August 1-2, 2015 at Moraine State Park - South Shore, 225 Pleasant Valley Road, Portersville, PA 16051

Register for the event
WestSylvaniaSailing.org
MoraineSailingClub.org
LakeArthurRegatta.org

2014 World Championship - Magnolia Beach Texas, USA

Eric Comstock hosted the 2014 world championship race on June 14th, 2014 at Magnolia Beach Texas. 9 duckers were able to race and an additional 3 ducks attended the event. "Super" Dave Sanborn won and is our 2014 world champion.

PDRacer World Championship Score Card 2014
Pictures 1 Pictures 2 Pictures 3
2014 World Championship Plans
PDRHou.com fleet page
Houston Space Duck Viking Marauder Horde Fleet

2013 World Championship - Port Alberni, Canada

David Whitworth won the rights to host our 10th annual championship race which was hosted by Anthea and Chris Finlayson on June 29th and 30th 2013 at Port Alberni, Canada. 10 duckers attended and were able to race. Rick Landreville won and is our 2013 world champion.

PDRacer World Championship Score Card 2013
Local TV Championship Report
AlberniPuddleDuckRacers.com
Alberni PDRacer Club Website (the old site)

2012 World Championship - Pennsylvania, USA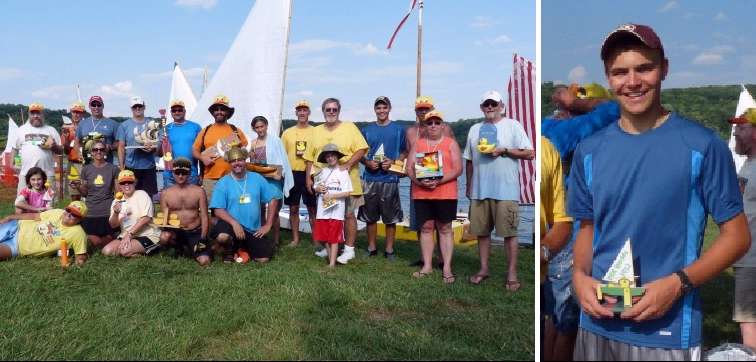 John Bridges hosted the 2012 world championship race on August 2 - 5, 2012 at Moraine State Park (Lake Arthur) in Pennsylvania. 21 duckers were able to race, and an additional 7 ducks attended the event. George Uehling won and is our 2012 world champion.

PDRacer World Championship Score Card 2012
Pictures from John Bridges of the championship race
Pictures From Richard Fry Page 2
Video of 2012 Championship Race
Their Championship Race Blog
Additional Information - LakeArthurRegatta.org

2011 World Championship - Oklahoma, USA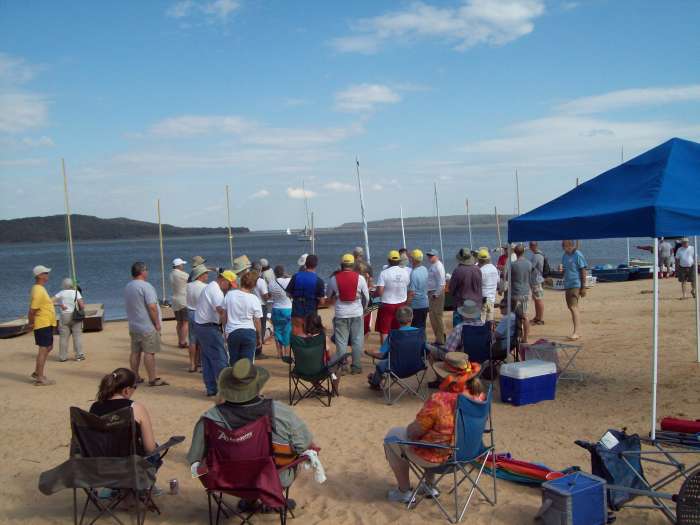 Jackie Monies hosted the 2011 world championship race on Oct 8 at Lake Eufaula, Oklahoma. 17 duckers were able to race, and an additional 5 ducks attended the event, some were knocked out do to damage from high winds. Brad Hickman won and is our 2011 world champion.

PDRacer World Championship Score Card 2011
2011 World Championships by Scott Widmier
Dave Zumwalt sailing #553 in his first ever race
Gene Berry pictures page 2 page 3 page 4 page 5
Patrick Johnson Picures
Spontaneous Combustion
Sailing To A Championship
Busted Mast

2010 World Championship - British Columbia, Canada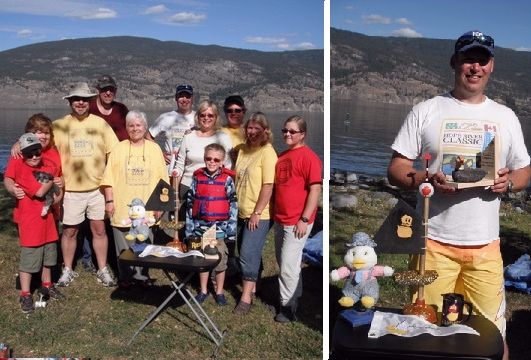 Jane Turnell and Gordon Seiter hosted the World Championship on September 11, 2010 at Okanagan Lake in Summerland BC, Canada.

(event report from Rick Landreville)
Hi everyone;

We had seven boats at the event yesterday. There was a brief measurement and every hull conformed except hull 311. Hull 311 and 58 did not start. We raced two laps of a triangular course that was 8.6 kms long with two of the legs mostly upwind due to an unforseen windshift just before the race. Winds were light between 3 and 15 kmh. The winner of the race was myself in hull 422. Hull 313 was second and hulls 114 and 226 tied for third with Jane Turnell in hull 96 coming in fifth.
Rick Landreville
PDR 136, 311 and 422
Acting World Champion for 2010.

2009 World Championship - Georgia, USA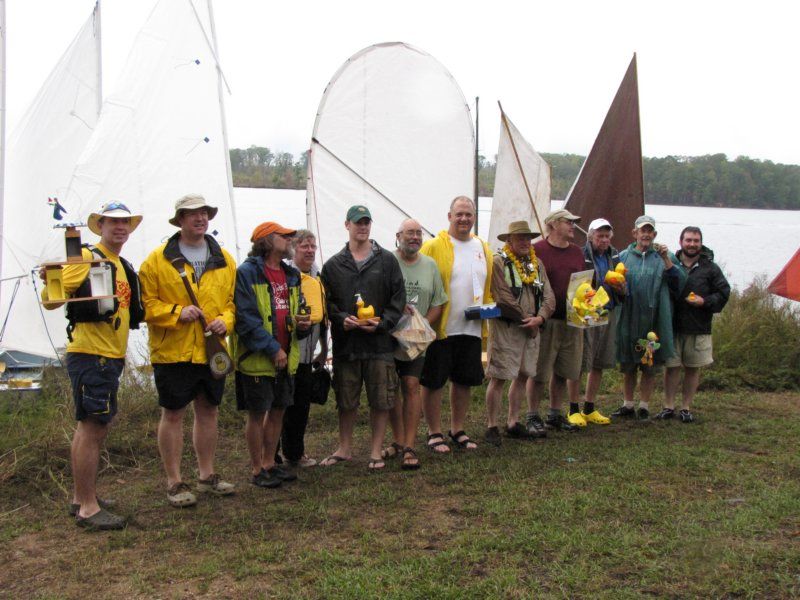 Tim Cleary hosted the race on October 10, 2009 at Allatoona Lake near Atlanta, GA. 13 puddle ducks attended making it the largest puddle duck race to that date. 3 conventional round the buoy races were run to compose the championship, plus later an extra pirate poker race for fun, and on Sunday an improvised sail race for fun.
Shawn Payment won the buoy races with the best point score, becoming our new world champion and 2008 champion. There were other races that were run & many other activities

Full Report at Dave Gray's PolySail.com
Marc Blazer pictures
South Winds Sailing Club pictures
Gil Kolan / Netzer and Idit video at Youtube

2008 World Championship - Oregon USA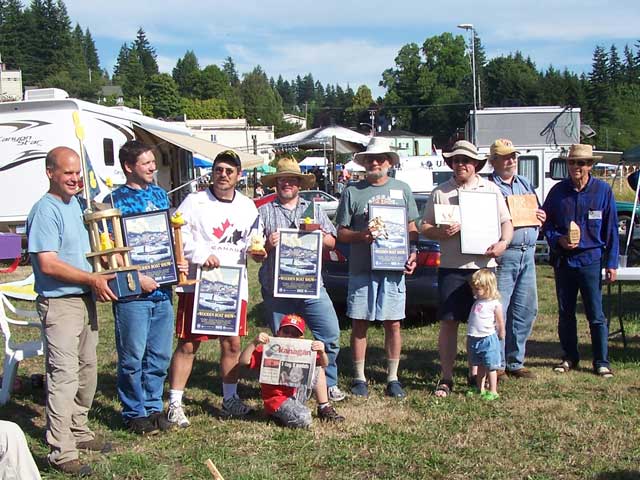 The 2008 world championship was hosted by Andrew Linn and raced on August 23 and 24, 2008 at the Toledo Wooden Boat Show. 9 boats participated, some boats had to be last minute improvised, visitors travelled from far and wide including from another country.

(the website with the full report is no longer available)
2007 World Championship - British Columbia, Canada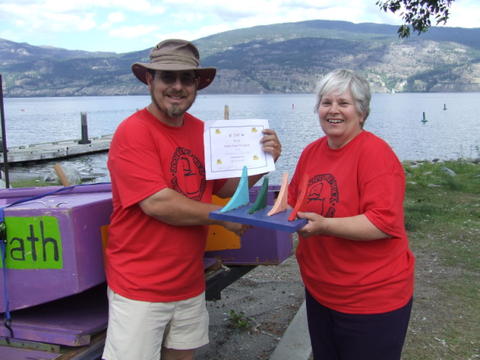 The Okanagan Fleet of Puddle Duck racers played host to the 2007 Puddle Duck World Championships over the weekend at Peach Orchard Park in Summerland. Gordon Seiter 58 "Goliath" took first overall and is our 2007 World Champion. The Team of Christine Caumartin and Ted Morrison sailed Boat # 146, Martin Cleaners BCQT to second overall. Rick Landreville out of Chilliwack finished third in Hull #136, Monstrosity. Rick also won the prize for coming the furthest distance to attend, and enjoyed the room donated by The Rosedale Motel.
In total seven boats took part in the two day event. Honorable mention goes to the Smith Family of Faulder who entered two boats and saw their newest, Hull #114 Lincoln Imp, crewed by Gary and Mathew win Sunday's Tail Chase Race. Race Organizer Jane Turnell admits Mandy and Racheal were somewhat handicapped racing Hull #92 Sink-A- Moose constructed by Summerland Mayor David Gregory during last years Centennial Puddle Duck Hatch.Sass Boutiques Calypso, Hull #147, finished both days out of the points.

(the website with the full report is no longer available)
2006 World Championship - Texas, USA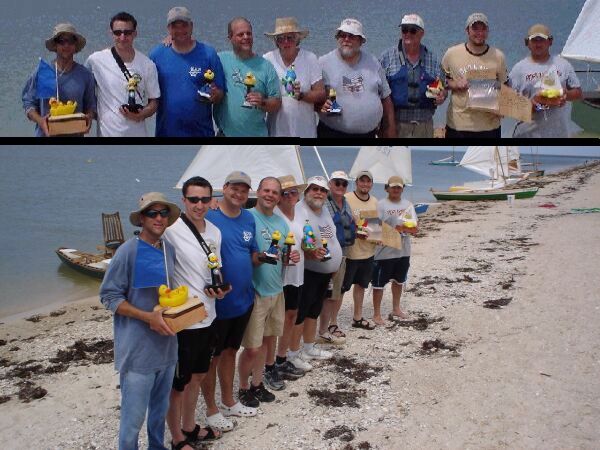 On 5-13-06 we held our 3rd world championship at Magnolia Beach, TX. We had 9 duckers participate In an astonishing feat of skill, Dave Sargent #7 "Ducky" was able to win the race and became our first two time champion!! Dave the person on the far left.

Race Report
2005 World Championship - Louisiana, USA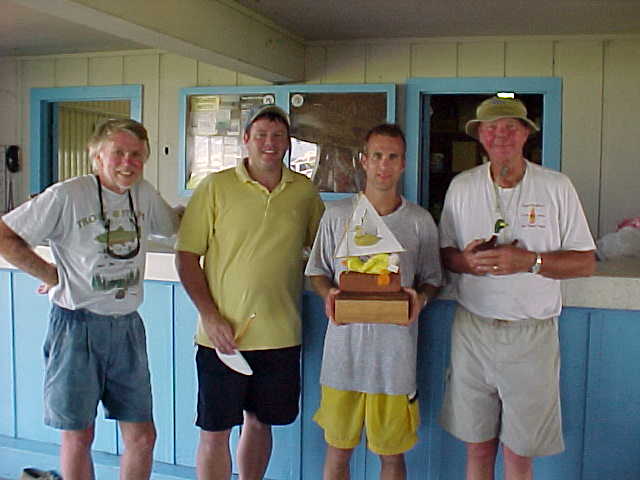 On 8-6-05, our 2nd annual World Championship race was hosted at the Lake Charles Messabout. We had 4 duckers participate. Dave Sargent in #7 was able to win and became our 2005 world champion. In the picture, Dave is holding the trophy.


2004 World Championship - Louisiana, USA

During the first race series, we had 7 boats participate in the races, hulls: 1, 2, 3, 6, 7, 8, 14. On 8-7-04, the final race of the series, and the first world championship was won by Ken Abrahams #2, who became our first world champion.

Race Report